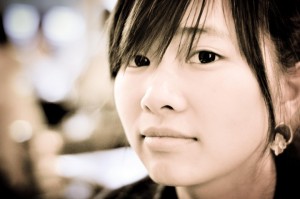 Jue Wang is a pianist and composer based in New York City. She is also the founder and the artistic director of It's A Secret Performance – a theater group that works on immersive music theater performances with surround sound system. Jue's recent music compositions often combine of acoustic instrumental sound and pre-recorded electronic music. Through frequently presenting raw and physical sound materials in unusual close-up performance spaces, Her work intend to stimulate a sense of intimacy for the audience, which addresses the dialectic relationship between private and public in a performance. Apart from her sonic experiments, Jue's recent compositions have been focusing on expanding the visual and the theatrical dimension of musical performance. Jue explores dramatic forms of performance including object-oriented performance, magic shows, sound sculptures and videos.  Her ongoing immersive theatrical project series, titled Bedroom Performances, intend to bring together all these theatrical and magical elements in the most immersive sense.
Jue's another focus is to work on experimental music performances with children in the age range from 6 to 12 years old. As a Ph.D. student, her academic research examines children's relationship to abstract sound and experimental music. She seeks more opportunities to bring young performers and young audiences into the realm of experimental music.
Jue has been honored with performances of her music throughout China, United States and Europe by ensembles including Jack Quartet, Talea ensemble, Momenta Quartet, Loadbang, Orchestra of the League of Composers, Krulik Quartet. She has also worked with established solo performers such as Thomas Buckner, Miranda Cuckson and William Lang. A review by Cleveland Classical in 2012 has described her as "having a sensitive ear and original voice … surely someone we will be hearing much about in the future". In the same year, her chamber opera, Scholar, Monk, Snake, was selected by the Center for Contemporary Opera to be performed in NYC.
Jue received her B.M. degree at Oberlin Conservatory. Currently, she is pursuing her Ph.D. at New York University.